Observing the glass-encapsulated tag under a microscope, he noted it was partially coated with a translucent material, normally used to keep embedded microchips from moving around the body. "This coating could be the material inciting the inflammatory response," McGee wrote.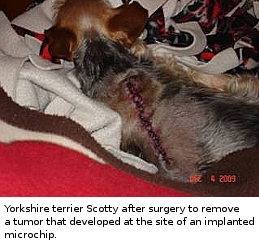 Hawkins sent the pathology report to HomeAgain, the national pet recovery and identification network that endorses microchipping of pets. After having a vet review the document, the company said the chip did not cause Scotty's tumor --- then in January sent Hawkins a $300 check to cover her clinical expenses, no questions asked.

"I find it hard to believe that a company will just give away $300 to somebody who calls in, unless there is something bad going on," Hawkins says.

Having spent $4,000 on medical treatment for Scotty since December, Hawkins accepted the money. But she says it hardly covers her $900 monthly outlays for chemotherapy and does little to ease her pet's suffering.

"Scotty is just a baby. He won't live the 15 years he's supposed to ...I did something I thought a responsible pet owner should --- microchip your pet --- and to think that it killed him ... It just breaks your heart."

Scotty and Seamus aren't the only pets to have suffered adverse reactions from microchips. Published reports have detailed malignant tumors in two other chipped dogs; in one dog, the researchers said cancer appeared linked to the presence of the embedded chip; in the other, the cancer's cause was uncertain.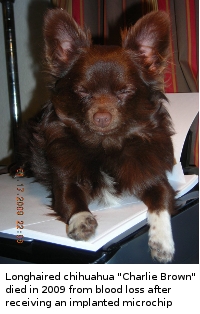 Last year, a Chihuahua bled to death in the arms of his distraught owners in Agua Dulce, Calif., just hours after undergoing a chipping procedure. The veterinarian who performed the chipping confirmed that dog died from blood loss associated with the microchip.

In another case, a kitten died instantly when a microchip was accidentally injected into its brain stem. And in another, a cat was paralyzed when an implant entered its spinal column. The implants have been widely reported to migrate within animals' bodies, and can cause abscesses and infection.

In 2007, The Associated Press reported on a series of veterinary and toxicology studies that found that microchip implants had "induced" malignant tumors in some lab animals. Published in veterinary and toxicology journals between 1996 and 2006, the studies found that between 1 and 10 percent of lab mice and rats injected with microchips developed malignant tumors, most of them encasing the implants.

by Katherine Albrecht, Ed.D - April, 2010
Bio: Dr. Katherine Albrecht is a privacy expert who has writtern extensively on the topic of implanted microchips. She is an outspoken opponent of implantable microchips, RFID, and retail privacy invasion. Katherine has authored pro-privacy legislation, testified before lawmakers around the globe, written for numerous publications including Scientific American, and granted over 2,000 media interviews. Katherine is syndicated radio host, bestselling author, and the U.S. spokesperson for www.Startpage.com, the world's most private search engine. Katherine holds a doctorate in Education from Harvard University.

Back to Top

###
---
Source: http://www.antichips.com/press-releases/chipped-pets.html